Completed Projects
Analysis and Evaluation of Comparable Corpora for Under Resourced Areas of machine Translation
The aim of the ACCURAT project was to research methods and techniques to overcome one of the central problems of machine translation (MT) – the lack of linguistic resources for under-resourced areas of machine translation. The main goal was to find, analyze and evaluate novel methods that exploit comparable corpora on order to compensate for the shortage of linguistic resources, and ultimately to significantly improve MT quality for under-resourced languages and narrow domains.
A European AI On Demand Platform and Ecosystem
AI4EU aimed to build a comprehensive European AI-on-demand platform to lower barriers to innovation, to boost technology transfer and catalyse the growth of start-ups and SMEs in all sectors through Open calls and other actions. The platform acts as a broker, developer and one-stop shop providing and showcasing services, expertise, algorithms, software frameworks, development tools, components, modules, data, computing resources, prototyping functions and access to funding.  

Big Data Value ecosystem
The mission of BDVe is to support the Big Data Value PPP in realizing a vibrant data-driven EU economy or said in other words, BDVe supports the implementation of the PPP to be a success.
Behind that mission, there are multiple goals to achieve, a more competitive landscape of European Big Data providers being one of them.
CLARA: Common Language Resources and their Applications
CLARA aimed to provide researcher training in crucial areas related to language resources and infrastructure. The scope of the project was broad and included infrastructure design, lexical semantic modelling, domain modelling, multimedia and multimodal communication, applications, such as machine translation, and parsing technologies and grammar models. The project has resulted in new theoretical insights, new resources and tools and a new generation of researchers who can perform advanced research and development in language resources and technologies.
Cross-language Information Retrieval and Organisation of Text and Audio Documents
The aim of the CLARITY project was to develop cross-lingual information retrieval (CLIR) techniques for English -> Finnish, Swedish, Latvian & Lithuanian i.e low density languages with minimal translation resources and to investigate techniques of document organisation and presentation in concept hierarchies and by document genres and filters. Clarity was a fully-fledged retrieval system that supported the user during the whole process of query formulation, text retrieval and document browsing.
CLEOPATRA: Cross-lingual Event-centric Open Analytics Research Academy
The CLEOPATRA ITN, a Marie Skłodowska-Curie Innovative Training Network, aims to make sense of the massive digital coverage generated by the intense disruption in Europe over the past decade – including appalling terrorist incidents and the dramatic movement of refugees and economic migrants.
The CLEOPATRA ITN offers a unique interdisciplinary and cross-sectoral research and training programme, which explores how we can begin to analyse and understand the major events that influence and shape our lives and our societies. It will facilitate advanced cross-lingual processing of textual and visual information related to key contemporary events at scale, and will develop innovative methods for efficient and intuitive user access to and interaction with multilingual information.
Cost-effective, Multilingual, Privacy-driven voice-enabled Services
COMPRISE defines a fully private-by-design methodology and tools that reduce the cost and increase the inclusiveness of voice interaction technology through research advances on privacy-driven data transformations, personalised learning, automatic labelling, and integrated translation. This leads to a holistic easy-to-use software development kit interoperating with a cloud-based resource platform. The sustainability of this new ecosystem is being demonstrated for three sectors with high commercial impact: smart consumer apps, e-commerce, and e-health.
European Language Resource Coordination
The objective of the project to identify and gather language and translation data relevant to public administration across all 30 European countries. ELRC action manages, maintains and coordinates the relevant language resources in all official languages of the EU and CEF associated countries. These activities will help to improve the quality, coverage and performance of automated translation solutions in the context of current and future CEF digital services.
EASTIN CL (ICT PSP programme) – Crosslingual and Multimodal Search in a Portal for Support of Assisted Living
The project supports the e-inclusion of disabled and elderly people, by providing crosslingual and multimodal support for accessing information bases on assistive tools and technology. Recent efforts have linked national assistive technology information bases into a European portal called EASTIN . The objective of EASTIN-CL was to enhance this portal by creating a front-end to make it more accessible, using language technology: Multilingual technology allowing users to search the data in their native language; Multimodal technology allowing them to access the portal not just in written but also in spoken communication.
enetCollect - European Network for Combining Language Learning with Crowdsourcing Techniques
The enetCollect aimed at unlocking a crowdsourcing potential available for all languages and at triggering an innovation breakthrough for the production of language learning material, such as lesson or exercise content, and language-related datasets such as, among others, NLP language resources.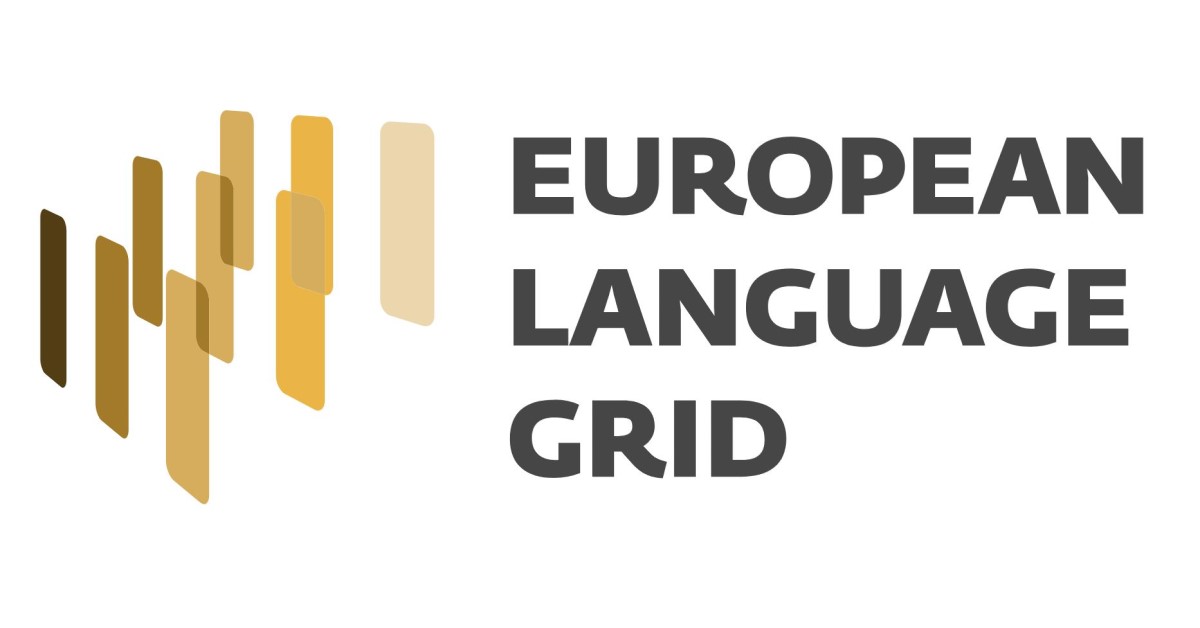 European Language Grid
The European Language Grid (ELG) project addresses fragmentation of European Language Technology (LT) landscape by establishing the ELG as the primary platform for LT in Europe. The ELG aims to be a scalable cloud platform, providing, in an easy-to-integrate way, access to hundreds of commercial and non-commercial Language Technologies for all European languages, including running tools and services as well as data sets and resources.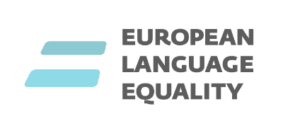 European Language Resource Equality
Twenty-four official languages and more than 60 regional and minority languages constitute the fabric of the EU's linguistic landscape. However, language barriers still hamper communication and the free flow of information across the EU. The primary goal of ELE is to prepare the European Language Equality Programme, in the form of a strategic research, innovation and implementation agenda and a roadmap for achieving full digital language equality in Europe by 2030.
EuroTermBank (eContent project) – Collection of Pan-European Terminology Resources through Cooperation of Terminology Institutions
The EuroTermBank project focused on harmonisation and consolidation of terminology work in new EU member states, transferring experience from other European Union terminology networks and accumulating competencies and efforts of the accessed countries. The EuroTermBank project result in a centralized online terminology bank for languages of new EU member countries interlinked to other terminology banks and resources.
eRMIONE (eTEN project) – E-Learning Resource Management Service for Interoperability Networks in the European Cultural Heritage Domain
eRMIONE project aimed at making available a range of services supporting e-learning and improving knowledge acquisition, targeted to actors operating in the cultural heritage domain all over Europe.The final output of eRMIONE project was an e-learning resource management service that delivers European cultural heritage material online to courses to bring enriched cultural exchanges to students at Higher Education Institutions from different countries. 
FREME - Open Framework of E-Services for Multilingual and Semantic Enrichment of Digital Content
FREME addressed the general systemic and technological challenges to validate that the multilingual and semantic technologies are ready for their integration in real life business cases in innovative way. These technologies are capable to process (harvest and analyse) content, capture datasets, and add value throughout content and data value chains across sectors, countries, and languages. 
LetsMT!  - Platform for Online Sharing of Training Data and Building User Tailored Machine Translation
To fully exploit the huge potential of existing open SMT technologies the project proposed to build an innovative online collaborative platform for data sharing and MT building. This platform supports upload of public as well as proprietary MT training data and building of multiple MT systems, public or proprietary, by combining and prioritizing this data.
Knowledge Complexity
The project is undertaking a 15-month investigation of the ways in which a focus on 'big data' in ICT research elides important issues about the information environment we live in. For its part in the project, Tilde will examine one of the greatest challenges for Big Data: the analysis and processing of multilingual content in unstructured texts. 
Building the Legal Knowledge Graph for Smart Compliance Services in Multilingual Europe
Lynx envisioned an ecosystem of smart cloud services to better manage compliance documents. A one-stop shop for SMEs and companies operating internationally seeking legal information and knowledge-based services. Lynx relies on a Legal Knowledge Graph of heterogeneous compliance data sources (legislation, case law, standards, industry norms and best practices) duly interlinked and integrated. This ecosystem enables smart search, smart assistance and smart referencing of case law, as well as Artificial Intelligence technologies and machine translation of regulatory compliance documents.
MATT (EUREKA project) – Web-based Multilingual Automated Terminology Translation System
The goal of the project MATT was to develop a new web-based translation system for automated translation of multilingual terminology that bridges the gap between traditional local (desktop) translation tools and terminology data on the Internet. This unique translation technology is meant for both professional translators using specialised translation environments (for example, SDL Trados, Wordfast, Kilgray MemoQ), and for various experts and other users requiring easy access to high quality term resources from standard office environments (Microsoft Word, Microsoft PowerPoint, OpenOffice Writer, etc). The platform for multilingual terminology translation is also made available to machine translation technologies.
META-NORD (ICT PSP project) – Baltic and Nordic Parts of the European Open Linguistic Infrastructure
The META-NORD project aimed to establish an open linguistic infrastructure in the Baltic and Nordic countries to serve the needs of the industry and research communities. The project focused on 8 European languages - Danish, Estonian, Finnish, Icelandic, Latvian, Lithuanian, Norwegian and Swedish - that each have less than 10 million speakers. The project assembled, linked across languages, and made widely available language resources of different types used by different categories of user communities in academia and industry to create products and applications that facilitate linguistic diversity in the EU.
MIAUCE (FP6 project) – Multi Modal Interaction Analysis and Exploration of Users within a Controlled Environment
The project aimed to investigate and develop techniques to analyse the multi-modal behaviour of users within the context of real applications. The multi-modal behaviour takes the form of eye gaze/fixation, eye blink and body move. The techniques was developed and validated within the context of three different application domains: Security, Customized marketing, and Interactive web TV.
MLi (FP7 project) – Towards a MultiLingual Data & Services Infrastructure
The MLi Support Action is working to deliver the strategic vision and operational specifications needed for building a comprehensive European MultiLingual data & services Infrastructure, along with a multiannual plan for its development and deployment, and foster multi-stakeholders alliances ensuring its long term sustainability.
Open Data Incubator for Europe (ODINE)
As part of its ODINE incubator project, Tilde gathered, created, and contributed new Multilingual Open Data sets for EU languages, which enable the language technology community to develop key services such as machine translation systems.
QT21 (H2020 project): Quality Translation 21
Project aimed to develop (1) substantially improved statistical and machine-learning based translation models for challenging languages and resource scenarios, (2) improved evaluation and continuous learning from mistakes, guided by a systematic analysis of quality barriers, informed by human translators, (3) all with a strong focus on scalability, to ensure that learning and decoding with these models is efficient and that reliance on data (annotated or not) is minimised. .
SAFE (EUROSTARS project) – Social Analytics for Financial Engineering
The project results is a web based news service consisting of the real time social sentiment about a set of financial products. The news are multilingual (Latvian, Swedish, German, Dutch, Polish, French) social media sources (blogs, feeds). Tilde ensured multilingual social media translation for social sentiment analysis by matured and specially adapted for social networks and financial domains SMT (statistical machine translation) systems. The news feed will be available as a free version listing the sentiment only, and a paid subscription based feed offering added services (links to originating news message, personalization and archive functionality.
SEMO
The retrieval of metadata from various documents and their conversion into another format is one of the most significant problems faced by document processing systems. The goal of the SEMO project was to develop a novel intelligent technology that retrieves metadata from documents both in paper and electronic format regardless of their type, structure and language. With the successful implementation of the project, a universal technology is created suitable for use in various document processing systems. 
SOLIM (EUROSTARS project) – Spatial Ontology Language for Multimedia Information Modelling
The objective of the SOLIM project was to improve context-aware information analysis by expansion of state of the art ontology languages and their support for automated reasoning by adding a spatial dimension. This enables semantic systems to venture beyond a static world and add the concepts of space and change.
TTC (FP7 project) – Terminology Extraction, Translation Tools and Comparable Corpora
The TTC project aimed at leveraging machine translation tools (MT tools), computer-assisted translation tools (CAT tools) and multilingual content management tools by automatically generating bilingual terminologies from comparable corpora in several European languages (i.e. English, French, German and Latvian) as well as in Chinese and Russian. Terms in different languages are aligned based on the similarity of words next to them in the corpora (immediate vicinity), the approach is known as lexical context analysis. The system generates candidate translations for single- or multi- word terms. The approach relies on the one-to-one relation between terms and concepts.
TRIPOD (FP6 project) – TRI-Partite Multimedia Object Description
Tripod project aimed to automatically build rich multi-faceted text and semantic descriptions of the landscape and permanent man-made features pictured in a photograph; and to create a more advanced image search engine. Tripod augmented images with spatial data to compute contextual information about the location and features of the actual landscape pictured. Using 3D models, buildings and landscape features contained in the image are identified and located within the picture. Techniques from Web search and text summarisation were applied to automatically create textual descriptions of the photographs, producing a rich readable and multifaceted caption far removed from merely location but encompassing culturally encoded notions such as socially connoted language of place such as suburb, west end, etc. 
TaaS (FP7 project) – Terminology as a Service
The TaaS project addressed the need for instant access to the most up-to-date terms, user participation in the acquisition and sharing of multilingual terminological data, and efficient solutions for terminology resources reuse. The developed cloud-based TaaS platform provides the following online core terminology services: 1) automatic extraction of monolingual term candidates from user uploaded documents using the state-of-the-art terminology extraction techniques; 2) Automatic recognition of translation equivalents for the extracted terms in user-defined target language(s) from different public and industry terminology databases; 3 )Automatic acquisition of translation equivalents for terms not found in term banks from parallel/comparable web data using the state-of-the-art terminology extraction and bilingual terminology alignment methods; 4)Facilities for cleaning up of automatically acquired terminology by users; 5) Facilities for terminology sharing and reusing: APIs and export tools for sharing resulting terminological data with major term banks and reuse in different user applications.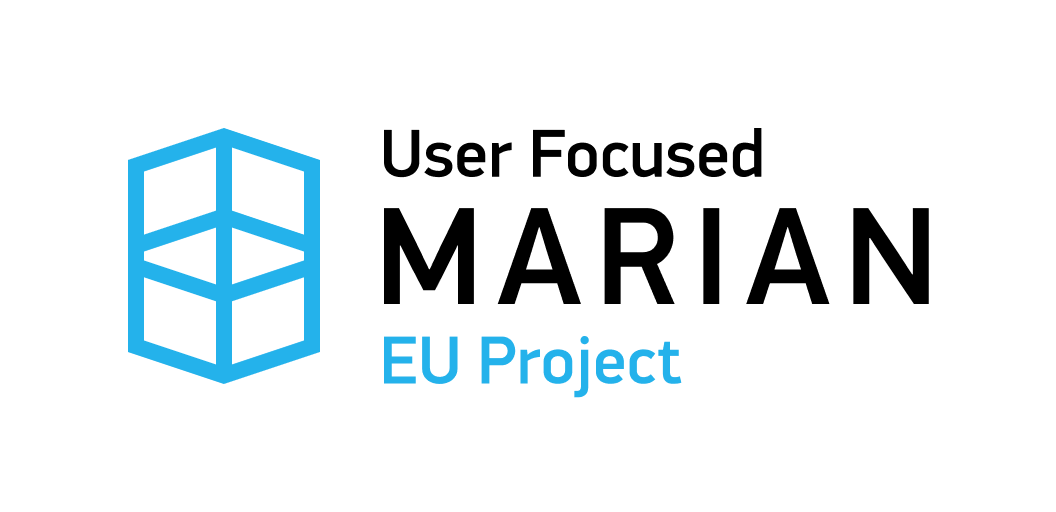 User Focused Marian
The University of Edinburgh, Unbabel and Tilde will work towards improving the open-source Marian neural automated translation toolkit. This project will improve Marian tool for automated translation by adding new features commonly requested by its users: factors, forced translation, on-the fly domain adaptation from translation memories, and GPU efficiency.